Meet The Team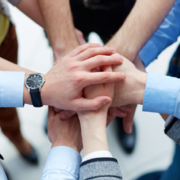 Meet The Team:
Professor Jon Bisson (BM FRCPsych, DM, Dip Clin Psychother) is Director of Traumatic Stress Wales. He is a practising psychiatrist and Clinical Professor of Psychiatry at Cardiff University and Director of Health for Health Professionals, a national initiative to support staff working in NHS Wales. He is Deputy Director of the National Centre for Mental Health and leads its intervention development workstream. He has conducted many research studies that have shaped research and practice in the traumatic stress field. He was co-chair of the UK's first PTSD NICE Guideline Development Group and chairs the International Society for Traumatic Stress Studies' Treatment Guidelines Committee. He developed and was the first director of NHS Veterans' Wales and Health and Care Research Wales.
Dr Thomas Hoare (BSc, MSc, D.Clin.Psy) is a Clinical Psychologist and Psychological Therapies Lead for the Children and Young Person's and Refugee and Asylum Seeker workstreams with Traumatic Stress Wales. Having trained in London and Wales, Thomas has clinical and research experience in the NHS (working in forensic and child and family mental health services), as well as the third sector, including spending a number of years working in humanitarian crisis situations assessing mental health needs and developing psychosocial support services across Africa and the Middle East. He has a written a number of academic papers and medico-legal reports in the area of refugee and asylum seeker mental health, and is passionate about supporting the development of services for people affected by trauma.
Dr Dave Williams (BM, MSc, FRCPsych) is the independent Adviser for Child & Adolescent Mental Health to the Welsh Government. He is also the Chair of Children in Wales and a member of the UK Trauma Council. Dave is a Consultant Child & Adolescent Psychiatrist in the Child & Adolescent Learning Disability team in South East Wales. He has developed integrated multiagency services with local authority, education and 3rd and voluntary sectors in SE Wales. His publications include a 30 year follow up of the Aberfan disaster survivors.
Dr Siobhan Henley (MBBCH, MSc, MRCPsych, BSC Hons) is a Consultant Child and Adolescent Psychiatrist who works into a Specialist child and adolescent mental health service in South East Wales. Siobhan is a trained EMDR Trauma Therapist who works with children and young people who have Post traumatic stress disorder (PTSD) or complex Post traumatic stress disorder (CPTSD). She leads on the development of a young person's Trauma Therapy service in her local CAMH Service. Siobhan is a member of the Children and Young people's refugee and asylum seeker steering group in South East Wales.
Dr Mathew D Hoskins (MBBCh MSc MRCPsych) is the Lead TSW Consultant Psychiatrist for adults. He also works as a Psychiatric Intensive Care Consultant and has experience using Trauma Focussed Psychological Therapies. He has published several systematic reviews and meta-analyses on pharmacological therapies for PTSD, with his latest work forming the Practice Guidelines from the International Society for Traumatic Stress Studies. He is currently the Principal Investigator for an upcoming Phase II study of MDMA-assisted therapy for PTSD in Cardiff.